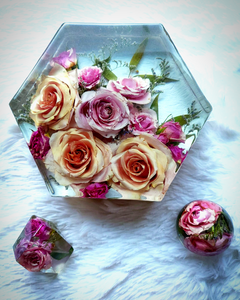 Reserve Your Flower Preservation Spot Today! - CURRENTLY BOOKING 2023 and 2024
Why preserve your flowers? Let's say you just got married. You spent a small fortune on your bouquet, centerpieces, your wedding party, etc. The day is beautiful, but then, as all days do, it ends. Now a few days later your flowers are wilting, you maybe pick a few to air dry and throw all the rest away. Now all you're left with is potentially faded flowers that may or may not have withstood the drying process. (PS this is not to knock air-dried flowers. I should mention I can absolutely do this process with air- dried bouquets. Even if they are years old. And they look stunning.) "This process" of course being professional flower preserving. By doing this your blooms natural beauty, including color and shape, can be preserved and frozen in time in a clear resin display shape of your choice and can be enjoyed for years to come. This is especially sentimental for weddings of course, but can be done with absolutely any occasion. Memorial flowers from funerals can be preserved with momentos such as photos, jewelry, ribbons, or even ashes. Special occasion arrangements like an anniversary, holiday, birthday, etc are all wonderful to preserve as well.
Please think ahead! Book your reservation spot today! This process takes multiple weeks (receiving the flowers, prepping, drying, and creating the final resin piece). The fresher the flowers are the better they preserve (be aware if you would be shipping your blooms or if they are being picked up/dropped off locally) so booking ahead ensures that your piece can be made at the exact right time.
Please email me directly at resonateresin@gmail.com for reservation availability, questions, concerns, etc.
2023 and 2024 SPOTS ARE NOW OPEN!!!